You have some free time and would like to play some video games on your PC. Unfortunately, however, this is a rather dated computer and you cannot install any of the most recently released titles. In this regard, have you thought about evaluating some browser games, so as to simply use your Internet browser and still spend a few moments of relaxation. How do you say? This is actually the way things are and would you like some advice on games to try? Then you will be happy to know that in today's guide you will find some tips on best browser games.
In the next chapters, in fact, I will give you some tips on the most interesting browser games currently available for all genres: strategy, FPS, soccer and multiplayer titles that allow you to challenge other players around the world. But before addressing these topics, I will also give you some information on which browsers to use to play browser games and which add-ons you may need to install in order to make the most of them.
Well: let's not waste any more precious time! What you have to do is simply sit down comfortably and carefully read all the tips that I will give you in this guide of mine. I am sure that, at the end of reading, you will find the browser game that reflects your genre, so as to occupy some of your free time. All I have to do is wish you a good read and, above all, a good time!
Preliminary Information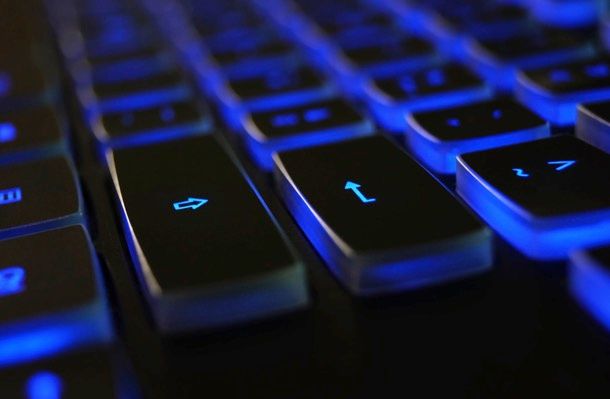 Before talking about browser games, it is necessary to indicate what are the requirements that are generally required to play this type of video game.
First of all, you need to use a popular Internet browser, such as Google Chrome, Mozilla Firefox, Edge o Safari. It is always recommended to use the latest version available, to make sure you have no problem playing the various titles.
For some browser games, the use of the Web browser alone may not be necessary: ​​in fact, some titles are designed with specific graphics engines that require the corresponding add-on installed on your PC to be correctly executed.
An example are those made in Flash: you will need to make sure you have installed it on your PC and, if so, also enabled it on your Internet browser. You must know, in fact, that the most recent browser versions automatically block Flash, preventing it from running; in this case, you will have to manually enable it, through the browser settings.
Some browser games, however, require the plugin Unity, a graphics engine also used for video game design. Unity, however, with the advent of HTML5, is only supported through technology WebGL, which does not require the installation of any add-ons. Some browser games designed with old versions of Unity require, instead, the installation of a special plugin, whose installation instructions are indicated on the same web page of the video game. That said, let's take action.
Best Strategy Browser Games
Stai encircling dei browser game on strategia, in the next chapters I will show you some of the best that you can start playing, right away, with your browser.
Forge of Empires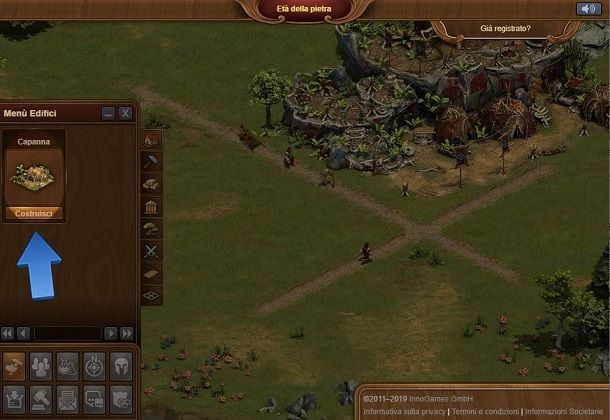 Among the browser game on strategia that I want to advise you, I point out Forge of Empires. This video game allows you to manage the construction of your city, through the different eras, a bit like already seen in other classic RTS video games, such as Age of Empires or the series Empire Earths, of which fans of the genre certainly remember.
Playing at Forge of Empires, you will have to progress your village through the different eras, building increasingly advanced structures and technologies, also clashing with other players, through turn-based battles for the supremacy of the field.
Forge of Empires, which you can play completely via the Internet browser, does not require the installation of any add-ons, making it one of the best solutions to play immediately, without worrying that you do not qualify to play it. In addition, it is also available on Android and iOS smartphones and tablets, so you can continue playing on the go.
To play Forge of Empires via your web browser, you simply need to connect to this link and, after the upload phase, register for a free account. You can choose to log in with Facebook or with your Google account.
Alternatively, you can follow the on-screen instructions to create an account with your email: you will need to type yours first nickname and then the password and l 'e-mail to be associated with the account. Once this is done, you just have to follow the instructions in the tutorial, which introduces you to some mechanics of this browser game.
Other Strategy Browser Games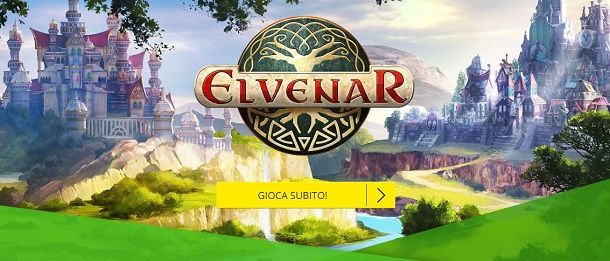 In addition to the browser game that I recommended to you in the previous chapter, there are several other equally valid solutions that can surely do for you, such as the ones I have listed below.
Elvenar - is a browser game created by the developers of Forge of Empires themselves, set in a fantasy world, whose purpose is to build your own elven or human city. It is also available as an app for Android and iOS.
Throne: kingdom at war - is a browser game developed by Plarium and set in medieval times. The aim is to develop your kingdom and recruit powerful medieval units to defend against the assaults of other lords. You can also play it on Android and iOS.
Vikings: War of Clans - is another Plarium browser game, similar to the one I already told you about in the previous lines. The main difference is based on the setting: you will find yourself in the lands of the North to upgrade your Viking kingdom and face other players. It is also available on Android and iOS.
Imperia Online - compared to the browser games I mentioned earlier, it is older but still very played, as well as being more complete and complex. The setting is medieval and the aim of the game is to build your empire, also through alliances with other players, as well as to defend yourself from the onslaught of enemies. You can also play Imperia Online on Android and iOS.
Travian - is a military-style strategic browser game, whose goal is to build a city and defend it from other players, using unique troops that differ from each other also based on the population chosen at the beginning of the game. It is also available in a mobile version, Travian Kingdoms, per Android e iOS.
Best FPS Browser Games
Stai encircling dei browser game FPS, in the next chapters I will list some that may be of interest to you.
Krunker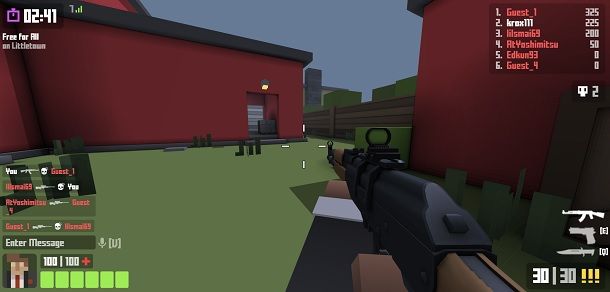 One of the best browser game FPS what I recommend is Krunker, available for free and requiring no registration to play. If, however, you want to create a free account, you will have the possibility to access the virtual shop to buy customizations for your avatar, as well as to keep your progress.
The feature of this video game is that it does not require the installation of any software and can be played directly from the web browser. There are many weapons and game modes, as well as supporting mods.
To play Krunker, you simply have to connect to this link and press the button Click to Play in the center of the screen, to immediately start a game session. Alternatively, you can simply press the buttons below to view the server list (Server Browse) or host a new game session (Host game). You can also join a friend's game (Join) or invite him to your (Invite).
Altri Browser Game FPS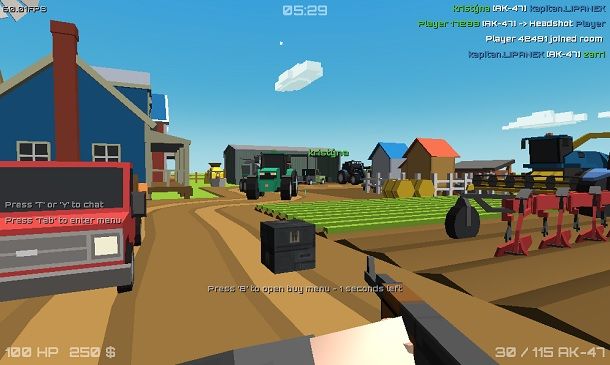 Among the FPS browser games available in circulation, they can recommend others, which will surely pique your interest.
Cartoon Strike - is a FPS browser game with simple and cartoon-like graphics, which consists of winning team matches. It is also available as an app for Android and as a video game for Windows PC, macOS and Linux, via Steam.
Warmerise - is a browser game that does not require any registration to play. Creating an account is required in case you want to gain experience to unlock weapons and rank up.
superhot - is a single-player FPS video game for Windows and macOS, available for purchase on Steam, but it is possible to test its full potential through a browser game version that does not require registration.
Rush team - it is a slightly slow FPS in the game dynamics, but it is a valid alternative to the solutions I have listed so far. Creating an account is optional and it is therefore possible to play as a guest.
Best Soccer Browser Game
If you are a lover of the football, in the next chapters you will find some browser games that will surely be for you.
Kopanito All-Stars Soccer Lite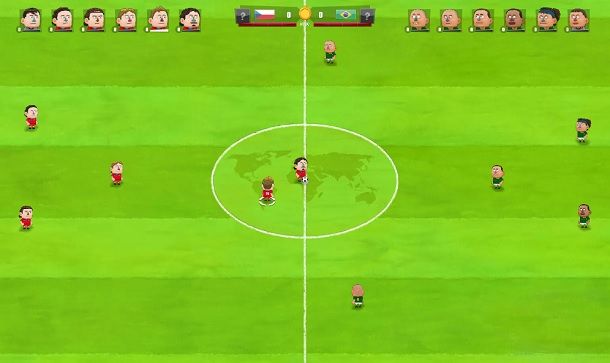 Kopanito All-Stars Soccer Lite is a browser game version with reduced functionality compared to the full game Kopanito All-Stars Soccer, available on Windows, macOS, and Linux, via Steam.
In the browser game version of this game, accessible at this link, you can choose a team from one of the eight national teams available and play a match in real time, to climb the World Cup standings.
Its gameplay mechanics are simple: you control each footballer to get the ball from the opponents and attempt to score goals. Unfortunately, in addition to this mode, which is also only available in single player, no other features are available. But if you want to play the 100+ teams and access multiplayer, you'll need to turn your attention to the full version of the game on Steam.
Other Browser Game Football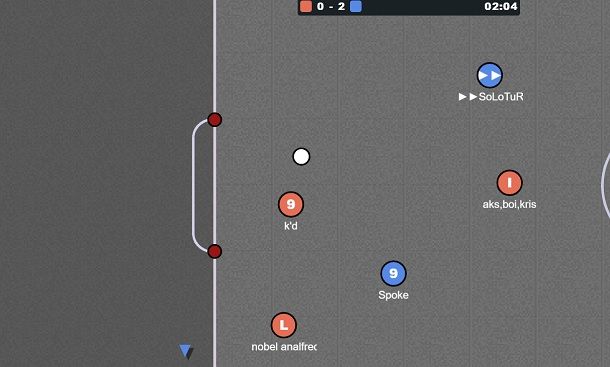 If you are interested in others soccer browser game, I can then recommend you some, of which you will find a list in the next lines.
HaxBall - is a soccer browser game with simple graphics. The players are represented with one ball and the player controls only one. Each match can be made up of up to 20 players, thus creating 10vs10 teams.
NitroClash - is a soccer browser game that allows you to create 1vs1, 2vs2, 3vs3 or 5vs5 matches, where each player controls a player.
Toon Cup 2019 - is a fun browser game made by Cartoon Network. You have to create a team of three characters, choosing them from the cartoon characters broadcast on this broadcaster, to win the tournament.
Best Multiplayer Browser Game
You're looking for gods browser game mutiplayer? In this case, in addition to those I have already recommended in previous chapters, you can also consult a list of them in the next chapters.
Slither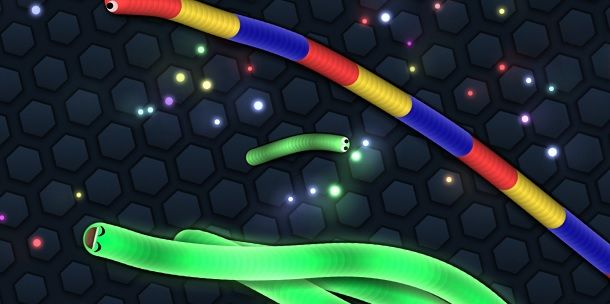 Slither it's a fun browser game multiplayer whose purpose is to clash with other players for the supremacy of the rank list with the longest worm. In this video game the size of the worm is not important to be able to defeat the opponents, but the strategy counts.
You must know, in fact, that even a small worm can defeat one of enormous dimensions, simply by placing itself in front of its trajectory of movement, hoping that it collides with its body at the last moment. By doing so, the worm will be annihilated and its particles will be available to be devoured, so as to grow in turn.
No registration is required to play. Simply reach this link and type the nickname you want to assign to your virtual worm. Immediately a game session will begin and you will have to start eating the particles you find, to become bigger, taking care to defeat, with strategy, your opponents.
Other Multiplayer Browser Games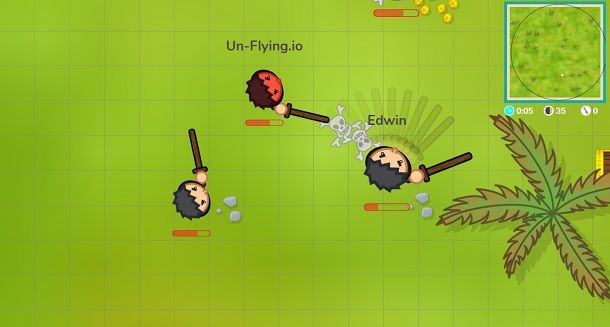 If you are interested in others browser game multiplayer, my suggestion is to consult the list you will find in the next paragraphs.
Agar - is a very famous browser game that consists of competing with other players to create a cell of ever larger dimensions and devour those of other players.
Yohoho - is a video game similar to Slither, the aim of which is to fight on a pirate island against other players. By defeating them, you will earn coins, with which you can later unlock new types of stronger characters to use. Account registration is only required to keep game progress.
paper - is another great multiplayer browser game that involves covering a plane with your own color. Defeating other players is simple: you have to cover the areas they have colored with your color and try to put them out of action when they are vulnerable, that is, when they are coloring the battlefield.
Oceanar - The goal of this multiplayer browser game is to feed your own fish to increase your colony and devour other players.
Other Browser Games to Try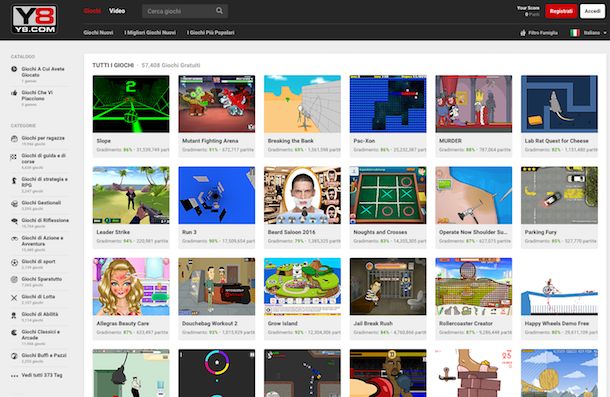 If you are looking for other browser games that you can play on your Internet browser, I can advise you to consult my guide dedicated to the subject. Inside you will find many suggestions on the best Web platforms, where you can find many browser games of different types to play.
I warn you that some of the games that will be proposed to you do not require the installation of any add-ons. For others, though, you'll need to enable Flash Player in order to play them. In this regard, I suggest you read what I have already illustrated to you in the introductory chapter.