You are so passionate about the genre RPG that you have decided to play them also through the small screen of your device Android? Well, I can understand you. On the other hand, playing RPGs directly from your Android device allows you to experience new gaming experiences and live unique adventures, albeit with some limitations compared to the experience guaranteed by home consoles or PCs. But now I bet you would like some advice on this: browsing the Play Store, you have in fact noticed that the catalog of RPGs available on Android is vast and now you don't know how to identify the best ones.
Did I guess? So don't worry: if that's the case, I can reassure you immediately. By ending on this page, you have found exactly what you were looking for, which is a guide to Best Android RPGs currently available on the Play Store, complete with descriptions and plot hints. There are titles to suit all tastes, so you will be spoiled for choice!
So what are you waiting for? I bet you can't wait to be able to immerse yourself in the imaginative worlds you are passionate about right from your smartphone or tablet. You can even replay your favorite RPGs, or perhaps discover new ones that have never been played. Make yourself comfortable and relax with this reading, I wish you to make many beautiful discoveries and have fun with the many games that I will recommend!
Preliminary Information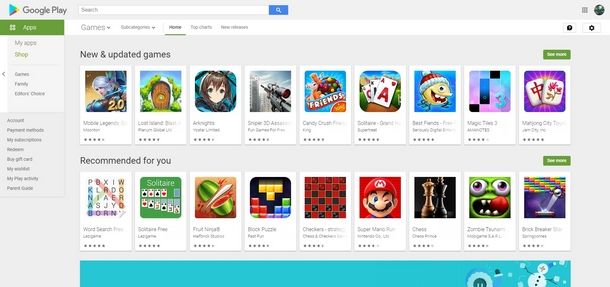 When it comes to games for smartphones or tablets Android, reference is made to a catalog that is nothing short of immense. Things do not change much if we refer only to the catalog of RPG (otherwise also known as RPGs o GDR). Make a selection of the Best Android RPGs it is therefore essential if you do not want to end up "overwhelmed" by so much abundance.
Speaking of the Play Store… you have already created an account to access this service, right? If you have associated a Google account with Android, the answer is yes. In any case, don't worry: I have my own dedicated guide that will help you in this regard. Follow it and, in no time at all, you will have a profile to be able to download everything you want from the Google digital store.
I also think it is appropriate to warn you that in some Android devices it is possible not find the play store. The reason may be the lack of a license from the device manufacturer, or it may happen that the icon is hidden. For this reason, I think my article on how to install Play Store might be useful. In still other cases, you may be able to find the Play Store icon but not be able to open the app because you are not logged in. In this case what is right for you is my guide on how to access the Play Store.
I remind you that not all games are free on the Play Store. Yes, because as with apps, games can also be offered for a fee and in these cases you will need to associate a valid payment method (eg a prepaid card) to your profile or top up your Play Store account.
Finally, I point out that if you have installed games (or apps) not coming from the Play Store, there are greater risks that you have introduced malware into your device. If you only suspect that you have one of these problems, take immediate action: first try to understand if there are viruses and immediately remove them, as I explained to you in my dedicated guide.
Best Android RPG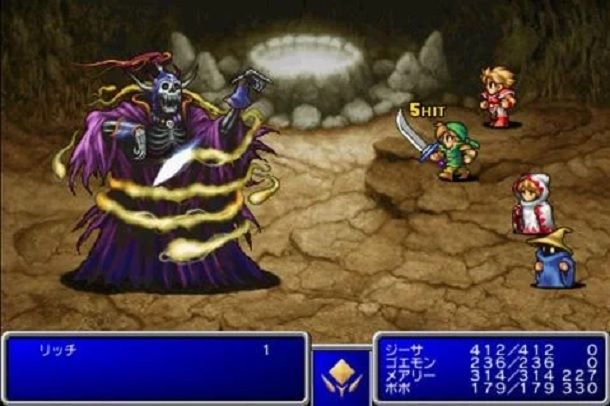 Well, having made these necessary premises, you are ready to go and discover the most beautiful RPG for Android. I've included both great classics and completely new and exclusive titles on this list.
As you will see for yourself, the games that I will recommend are all available in the only official Google store, therefore the procedure to download them is always the same: search for the title in the Play Store, press on its title and then on the button Install or on the button with the price.
I remind you that if you encounter problems or unforeseen events, you can always contact Google customer service for assistance almost immediately!
Please note: game prices are subject to change. In the post I have indicated those active at the time of writing, but for updated prices you must consult the Play Store directly.
Battle Chasers: NightWar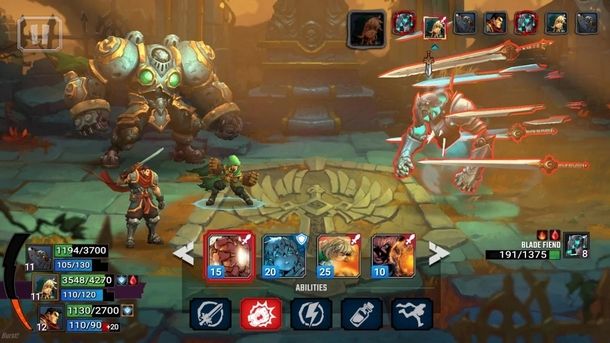 Battle Chasers: Nightwar draws inspiration from the great classics of the RPG genre to propose an updated and refined game formula. Available for purchase on the Play Store at price of 9,99 euro, proposes the mythical turn-based combat and the exploration of large labyrinthine and articulated dungeons that have made the genre famous. Added to these elements is an original story and hours and hours of fun exploration in search of the upgrades and the rarest items scattered around the game map.
Battle Chasers is an RPG with a strategic profile, considering that the fights require you to manage up to three fighters at the same time both against fearsome bosses and against common enemies. To win the game over the adverse game world, you'll need to study opponents by counter-attacking and hitting their weaknesses and building deadly team combos.
The modality is also particularly noteworthy Tolka Arena, specifically created to make you fight waves of stronger and stronger enemies, one after the other. Clearly, only by combining the best skills with the right protagonists will you have a better chance of winning.
Another peculiarity of Battle Chasers lies in the system of creation of objects. In fact, each character has equipment and objects available that you can create and enhance using increasingly unavailable ingredients and objects.
final Fantasy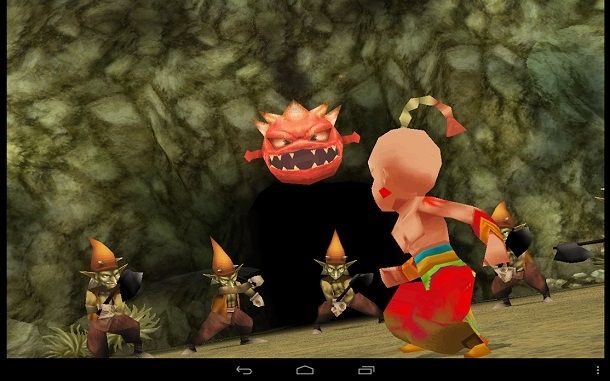 I think this name needs no introduction, it is one of the most successful RPG sagas and perhaps also the best known in the world. With final Fantasy, however, I do not refer to a single chapter of this saga, rather I intend to strongly recommend all (or almost) those present on the Play Store.
If you didn't already know, with an Android device you have the possibility to buy practically all the main games in the series (except the eighth), plus many others such as Final Fantasy Tactics or Final Fantasy Dimensions. Despite this, for convenience, I thought of grouping the main chapters of this purchasable series in a list.
final Fantasy
Final Fantasy II
Final Fantasy III
Final Fantasy IV
Final Fantasy V
F
Final Fantasy VII
Final Fantasy IX
It is certainly not easy to recommend one of these great classics, although the most celebrated and appreciated by players is the famous Final Fantasy VII. My advice, however, is to play the Final Fantasy games that inspire you the most. Let yourself be guided by the videos and images on the Play Store and whatever choice you make, I'm sure you won't be disappointed.
Final Fantasy is a Japanese RPG that has made its mark over several generations, and is for many the role-playing game par excellence. For this reason, if you decide to play them all, I can guarantee you that each one is different from the previous one, with a unique and memorable storyline. Prices vary from game to game, as they range from 8,99 € for Final Fantasy up to 22,99 € of Final Fantasy IX.
Evoland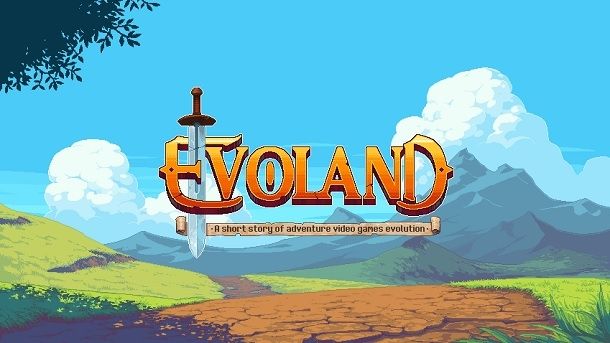 And if one of the Best Android RPGs was also one of the most successful tributes to the genre? You got it right, Evoland is an RPG that will put you in the shoes of a hero on an epic journey through the evolution of classic RPGs.
Evoland can be purchased from the Play Store at the price of 0,99 €, a small price for a great exciting journey through the world of RPGs. In practice, as you progress in the game you will be able to unlock, in addition to new equipment and items, new technologies that will do evolve graphics and the mechanics of the game itself.
For this reason, in Evoland you can experience the best of the genre, starting with old 2D turn-based combat right through to intense real-time battles in three dimensions. There are many possibilities for exploring the game map, including a futuristic shuttle for fast travel.
Of course, this game also offers numerous levels to explore, consisting of puzzle and other stages in which you have to go in search of collectible rarities. The only note, the Italian language is missing. However, the game remains a wonderful experience for fans of the genre, being an easy-to-access 360-degree homage with immediate gameplay.
If the journey through space and time in the RPG genre offered by Evoland is to your liking, don't miss Evoland 2 too!
Walking Dead: Survival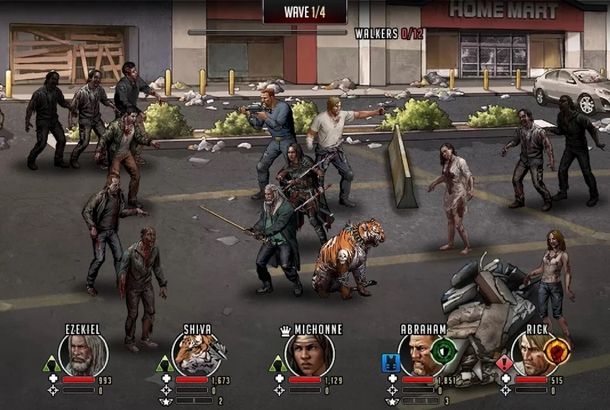 The beloved RPG genre has even caught up with the famous undead series created by R, with an excellent free game titled The Walking Dead: Survival.
In this role-playing game you can relive the atmosphere of The Walking Dead with an unreleased story created by Jay Bonansinga (co-writer of The Walking Dead) and enjoy an excellent turn-based combat system where you can manage multiple characters at the same time, struggling with waves of zombies and many other threats to face on multiple sides.
To distinguish The Walking Dead: Survival is not only the turn-based RPG combat system, which is fun and quite deep in itself, but also the integration of these mechanics with others typical of strategic games. In fact, to strengthen your team you will also have to fortify and expand the base camp so as not to have it plundered by other groups or destroyed by the invasions of the walking dead.
The title has a lot to offer also for narration, because it is easy to use thanks to well-designed and interactive comics. During the narrated events you will have the possibility to make choices that will influence subsequent events, or that will lead you to recruit new survivors.
The icing on the cake is PvP mode, that is multiplayer against other players. By defeating opponents online you gain resources and can enlist new people in your group, plus you get valuable points for climbing online rankings. For the less warlike it is possible to create alliances and forge pacts with other factions led by players in order to share indispensable resources and benefit each other.
To the Moon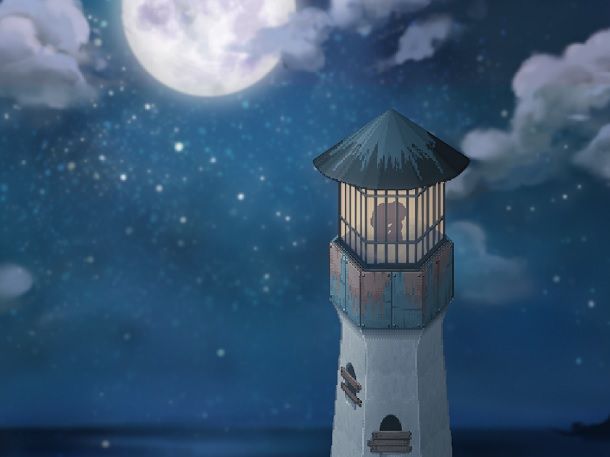 What I'm talking about now is a truly atypical RPG, to the point of not having a fighting system but a strong focus on the story. If it seems strange to you, you haven't read anything about it yet. I'll explain right away. In To the Moon, Dr. Rosalene and Dr. Watts, the two protagonists, give their patients the opportunity to relive their lives through their memories: the last ones before they die.
In practice, the two doctors use this "therapy" to let people's wishes come true before they take their last breath. This aspect alone would be enough to make To the Moon an unmissable RPG, yet things get even more interesting, because the last wish that the two doctors will have to fulfill is that of Johnny, an elderly man with the dream of going to the Moon.
The quality of To the Moon is immediately tangible from the moment of its launch. The 2D graphics are among the most expressive in recent years, the soundtrack deserves to be heard even outside the game and the development of the narrative keeps the pace, intensity and charm high from start to finish. The game has a price of 4,79 euro.
Doom and Destiny Advanced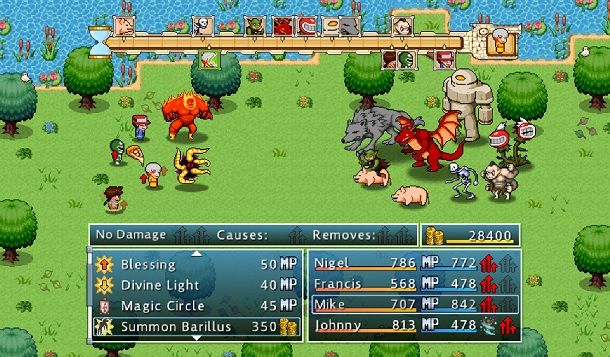 Now is the time to tell you about an IRPG! How do you say? Have you never heard of this acronym? Well, then I absolutely have to tell you about it because this term is used jokingly by the developers of Doom and Destiny Advanced to indicate the Italian Role Play Game genre. That's right, it is an RPG made in Italy by a team of developers passionate about JRPG.
In Doom & Destiny Advanced, you'll have the pleasure of playing and following the hilarious and reckless deeds of four nerds on an epic journey into a fantasy world. In this game you will have the pleasure of following a story as a prequel, sequel and reboot at the same time. That's right, Doom & Destiny Advanced is the sequel to Doom & Destiny, but at the same time it is a re-edition of all the elements that make up the first chapter and finally it's a prequel because the events take place in a period prior to that of the first.
Confused? There's no reason to be, what you need to know is that Doom & Destiny Advanced will let you explore a huge game map, engage in action-packed, turn-based combat like in the more classic JRPGs, and give you access to a large amount of characters to interact with. The icing on the cake: cross-platform multiplayer, that is, you can also clash with those who play on platforms other than Android.
The Advanced version of this unrepeatable RPG is available for the price of 2,99 € on the Play Store, the only edition that features the flying shuttle for exploration, level cap and maximum affinity, all classes and much more.
Monster Hunter Stories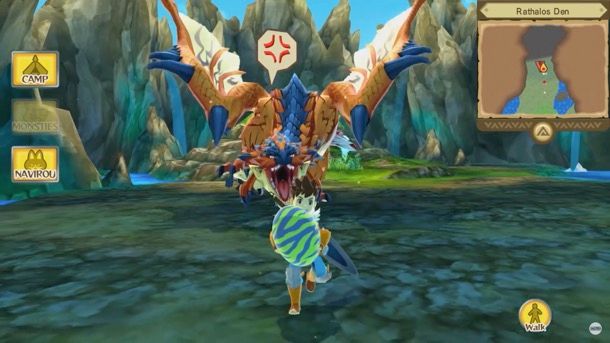 If you know the saga Monster Hunter, you should definitely give a chance to play an RPG inspired by this series and originally conceived for Nintendo 3DS, excellently converted for Android smartphones and tablets.
It's called Monster Hunter Stories and it's a spin-off, or a parallel chapter that re-proposes the elements of Monster Hunter in a new key to the series. In particular, the graphic style changes, decidedly more stylized, but above all the gameplay changes profoundly, passing from the more action-oriented one to turn-based combat.
As a player you will play as a Rider, or special people who create indissoluble bonds with monsters thanks to the Stones of the bond. Your Rider will then be able to get help from a monster in battle, strengthening it fight after fight and in battles with increasingly fearsome monsters.
During the adventure you will be able to forge new bonds with other monsters and strengthen your team and chance of victory. Monster Hunter Stories also features a multiplayer mode, as well as a long and compelling story.
Monster Hunter Stories is available for the price of 21,99 € on the Play Store.
Fire Emblem Heroes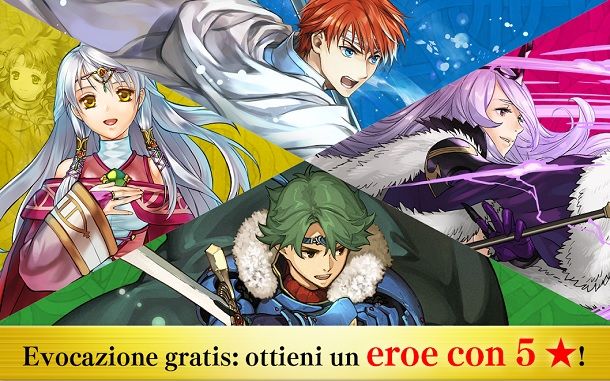 Another prominent spin-off in the Android RPG catalog is Fire Emblem Heroes, also borrowed from the Nintendo 3DS one and perfectly adapted to the game on smartphones and tablets.
It is difficult to resist the charm of one of the best strategic RPGs created for Nintendo consoles, one of the most popular and played in the last 25 years. In this chapter you will be able to enjoy all the distinctive elements of Fire Emblem, from the use of different fighters, each with specific skills, to immersion in an original and intense story.
Clearly, mastering the strategic element of gameplay in this RPG is of paramount importance. Not for this, however, you have to think that you are not up to the challenge, both because the learning curve is sufficiently large, and for the presence of the interesting Automatic Battle option which is very useful for leaving different decisions on strategy to the game.
There is also the possibility to challenge other players with a multiplayer mode based on competition between the factions of the most trained fighters. And if you are a lover of the series, you will greatly appreciate the presence of the heroes of the previous Fire Emblems.
The good news did not end there, indeed the best is that you can play Fire Emblem Heroes at no cost. Please note, however, that the free character of the game applies to the main modes, while some functions require the purchase of spheres using real money.
Other RPGs for Android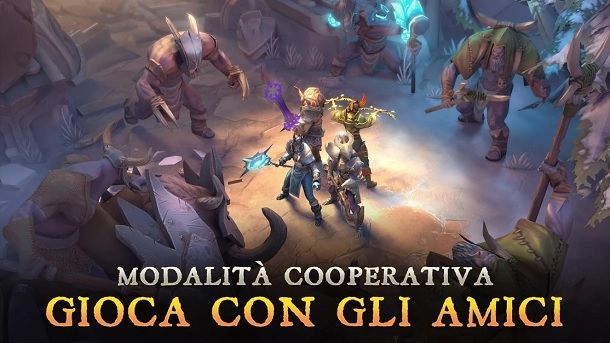 Obviously, as I anticipated at the beginning of this article, there are many excellent RPGs for Android and for this reason I thought I'd recommend other very interesting ones by reporting them in this chapter.
Dungeon Hunter 5: A kingdom plunged into darkness, monsters and bandits compromise the lives of its people, and mercenaries do business at full speed. All of this happens in Dungeon Hunter 5. This RPG Free subscription puts you in the shoes of these mercenaries and offers "hack and slash" RPG mechanics, very similar to those of the famous Diablo from Blizzard Entertainment.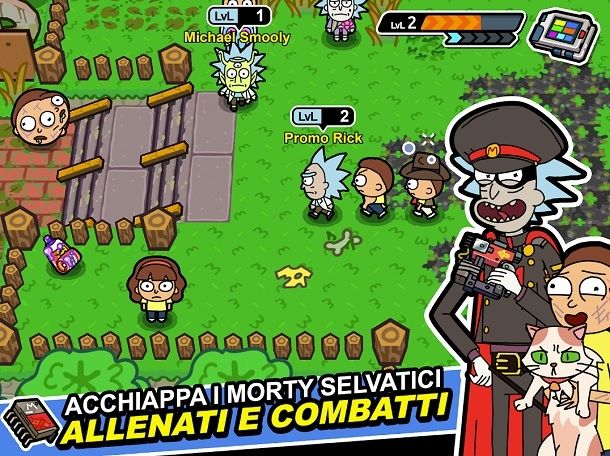 Pocket Mortys: The bizarre and unscrupulous world of Rick Morty's has produced an interesting RPG that does not hide to wink at the famous series Pokémon by Nintendo. In this game, available at no cost on the Play Store you can catch over 70 Mortys to train them and use them in combat using their different abilities.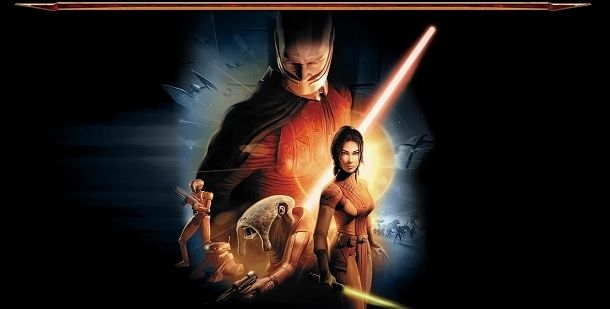 Star Wars: Knights of the Old Republic: If you don't know it yet, Star Wars KOTOR is one of the best RPGs ever. It is available on the Play Store at price of 10,99 euro and is an adapted version of the original released on the first Xbox and in some respects even better. According to most players, Star Wars KOTOR is one of the most successful related to this brand.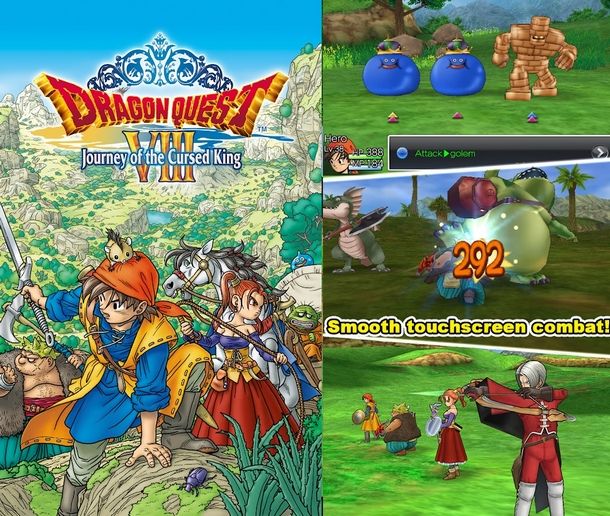 Dragon Quest VIII: Available on Play Store at price of 21,99 euro, the eighth chapter of one of the most successful sagas in the Japanese RPG genre, is an unmissable gaming experience. Iconic character design by Akira Toriyama (the author of Dragon Ball). On the Play Store there are many Dragon Quests, but I would recommend this not only for its longevity and quality, but also for the excellent art direction, practically at the levels of a console game.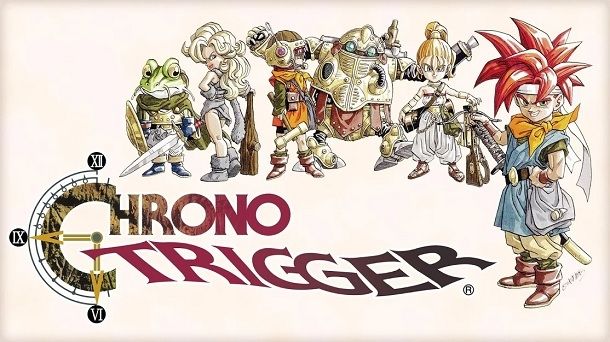 Chrono Trigger: Available on Play Store at price of 10,99 euro, this unmissable Japanese RPG was conceived by a team of champions. Just the name of Akira Toriyama to the artistic direction to give a precise idea of ​​the high caliber of this title, but we cannot fail to mention Yuji Horii, creator of Dragon Quest. This version of Chrono Trigger is the only one officially adapted in terms of graphics and controls to be enjoyable on Android smartphones and tablets. If you love Japanese RPGs, you will love Chrono Trigger.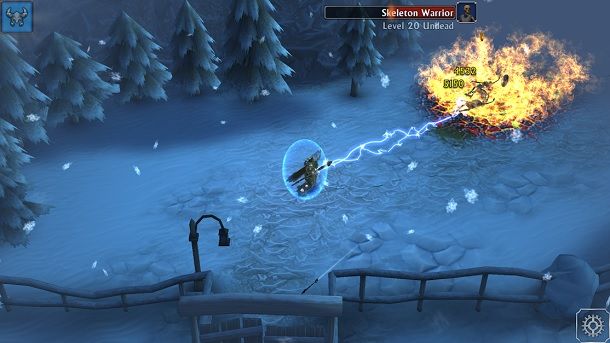 Eternium: Did you say action RPG? Then the answer is Eternium, a role-playing game free strongly action-oriented with immediate gameplay and a clean and neat appearance. The controls of this game are based on "tap to move" mechanics which translated means to move through a tap on the screen. Eternium offers hours and hours of combat, a large number of equipment and items, even legendary. This title knows how to become very deep thanks to the possibility of attributing up to 20 special abilities to the characters.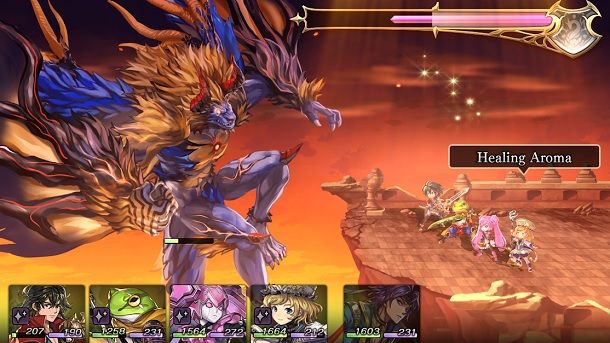 Another Eden: By playing this role-playing game free, you will be captivated by the addictive game mechanics and you will probably be hopelessly attracted by its fascinating graphics. Deep and full of details and visual effects, Another Eden is an RPG of unquestionable quality, with a story with nothing to envy to the most noble and famous JRPG born on consoles. If you are looking for a turn-based RPG where training your team is essential, Another Eden will give you a lot of satisfaction.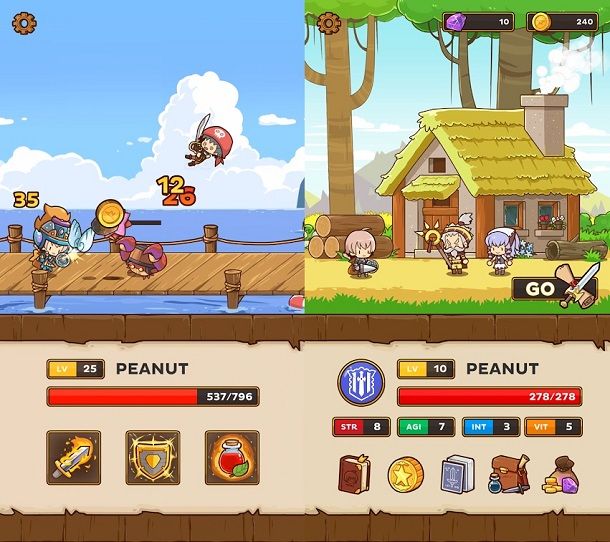 Postknight: This highly action-oriented two-dimensional RPG is available for free on Play Store. It differs in its simple and childish graphic aspect, even if the more precise term to describe the Postknight graphic style would be "kawaii". A graphic style that focuses on the sweetness of the characters' features and on a palette of colors tending to clear and gaudy. The protagonist you play is a postman knight, whose goal is to make deliveries overcoming enemies and adversities by upgrading with better and better armor and items.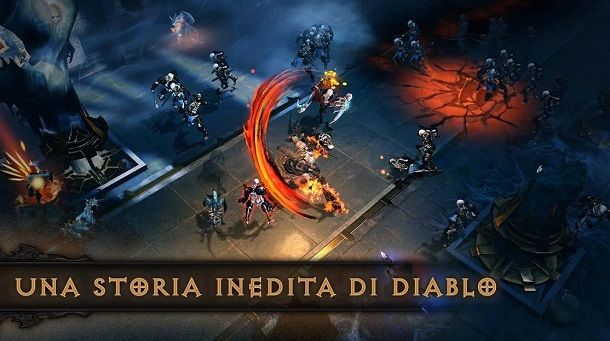 Diablo Immortal: OK, you may be wondering how it is possible that you have missed a Diablo for Android. Don't worry, you have nothing to blame yourself because Diablo Immortal has yet to come out. Despite that, there is good news: you can register on the Play Store to get early access to an early version of the game. My suggestion therefore is to consider this Diablo for the future, because at the time of writing it is not available and unfortunately it is not possible to give guarantees on its quality. However, there is still talk of Diablo, a hack & slash RPG institution! It's definitely worth signing up for a chance to access in the future!