You are not yet very familiar with technology and the world of smartphones, for this reason, as the first modern mobile, you bought a Windows Phone. You are in fact convinced that the easy use of the Windows operating system for mobile can make you a "gym" for a subsequent Android or iOS mobile phone.
Well, what can I say, I can't blame you. Among the operating systems for mobile devices, perhaps the one developed by Microsoft is the most suitable for those who switch from an old mobile phone to a modern smartphone for the first time. However, the limited possibilities offered by this operating system make it lose some points. Once you are familiar with modern smartphones, my advice is to go ahead and consider buying an Android phone or an iPhone.
In the meantime, if your current intent is to identify what are the indispensable applications for a Windows Phone, I suggest you take a few minutes of free time to read this tutorial. So keep your Windows Phone at hand; I will explain how to download applications from the default store of your device and I will tell you about what I consider the most noteworthy applications that you can then use with your smartphone. Are you ready to get started? Yup? Very well! I wish you a good read.
How to Download Apps on the Windows Store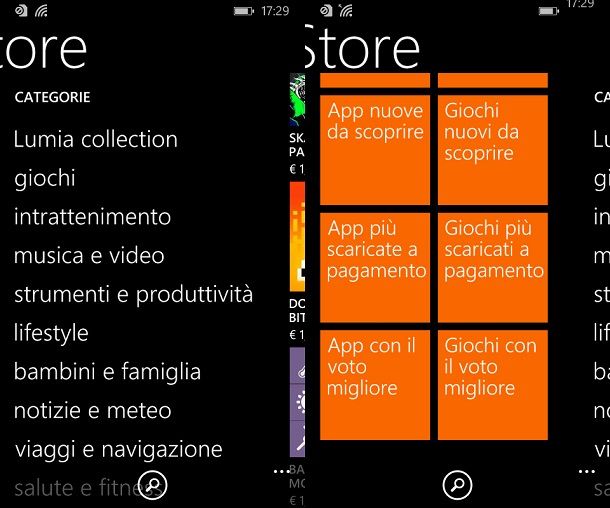 Before seeing in detail what are the best applications to download on your Windows Phone device, it is necessary to make a small introduction. In fact, in the following lines I want to explain to you how you will have to proceed to download applications from the Windows Store. In this way, in addition to the applications that I will recommend, you can later download others independently.
To download applications via the Windows Store, the default store for Windows Phone smartphones, the first thing you need to do is locate the Microsoft digital store application. The application in question is located in the main menu of the device, it is called Store and has the symbol of a shopping bag with the Windows logo inside.
Then tap on it to open it; inside you can see many games and applications (both free and paid) to download or purchase. From the main menu, then swipe to the left; you will find yourself in the screen Categories in which games and applications will be grouped: Games, Entertainment, Music and Videos, Tools and Productivity, Social Networking and Work are just some of the main categories of applications.
By swiping to the right twice, however, you can find the section Quick Links of the Windows Store. It is a section that groups several macro categories:
Featured app
Featured games
Most apps downloaded for free
Most downloaded games for free
New apps to discover
New games to discover
Most downloaded paid apps
Most downloaded paid games
App with the best grade
Top rated games
By tapping on one of these boxes you will be sent back to the macro category to which it belongs.
To download applications through the Windows Store you can also tap on magnifying glass symbol: via the text field of the search engine, which you see next to the wording Search in the Store, you can search for an application to download. Once you have identified an application to download, you can download it by tapping on its icon and then pressing the button Install.
At the end of the installation, you can press the button View to start it. The application will also have been added to the list of apps installed on your phone; by tapping on its icon you can start it.
Social Networking and Messaging Applications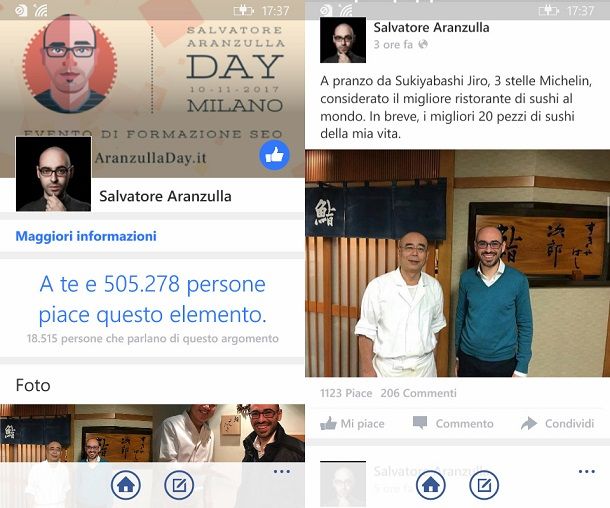 Starting to go into the merits of what are recommended applications to download on Windows Phone, I would say to start this tutorial with messaging applications. Thanks to the increasing diffusion of the Internet, in fact, conversations have shifted to social networks and from SMS we have moved to instant messaging applications. This is a change that should not be underestimated since, in this way, it is possible to send unlimited messages, using the Internet connection.
I indicate below what I believe are the best applications of this type
Facebook: available for free, is the official application of the famous social network. By downloading the application on your Windows Phone mobile device you can use all the features of the desktop version of Facebook. This app is therefore excellent for using the social network even when you are away from home.
Twitter: if you use the 280-character social network every day, you will surely want to be able to use it even when you are not at your PC. The solution in this case is none other than to use the application. You can download the app for free from the Windows Store.
Instagram: is the official application of the popular photo social network purchased by Facebook. Unfortunately, however, compared to the application for Android and iOS devices, it is a bit incomplete as there are some features missing. Alternatively, thanks to the numerous positive reviews, to take advantage of Instagram on Windows Phone you can download the app free 6day.
WhatsApp: going into the details of the most popular instant messaging applications, it is impossible not to mention WhatsApp. If you want to keep in touch with your friends always use this application free is essential.
Facebook Messenger: Still talking about the possibility of keeping in touch with friends and relatives, Facebook Messenger is the application free that you must download in order to send private messages to Facebook friends and contacts.
Telegram Messenger: This is another valid instant messaging application, considered by many to be the best alternative to WhatsApp. IS free and if you want to know more about how it works, I suggest you read my guide dedicated to the subject.
Skype: developed by Microsoft, this historic application free allows you to send messages, call and video call friends over the Internet. It is practically the heir to MSN Messenger.
Entertainment Applications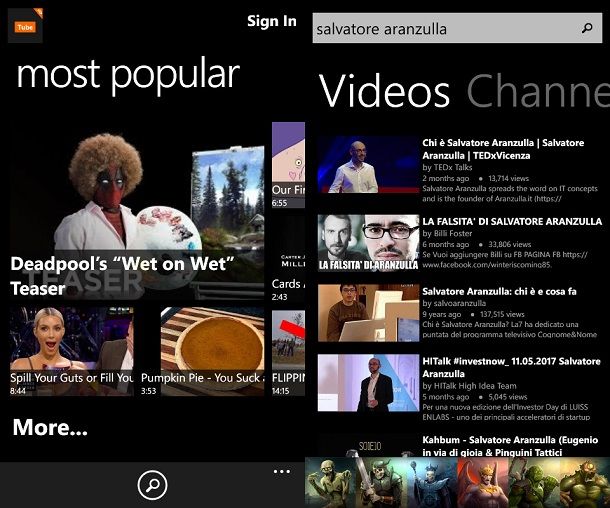 If you like listening to music, watching movies, shows and TV series, I am ready to tell you some applications that you will no longer be able to do without.
Spotify: is an indispensable application for music lovers from the moment it allows access free to a virtually unlimited multimedia library of songs and albums to listen to over the Internet. Since this is a free application, listening is interrupted by advertising banners. Alternatively, however, it is possible to subscribe to the service. To find out more, I recommend reading my guide dedicated to the topic.
Tube HD: Unfortunately, there is no official application for Youtube on Windows Phone. To watch the videos of the well-known video-sharing platform you have to settle for the unofficial application (ma free) Tube HD that allows you to see videos even in high resolution.
Rai TV: is the official application for Windows Phone that supports the viewing of Rai TV channels in live streaming. It is also often used to review programs aired through its on demand mode. Of course it is quite free.
Netflix: Lovers of movies and TV series should consider subscribing to Netflix, a popular platform for watching movies and TV series on demand. For a view on mobile devices there is the application for Windows Phone. If you want to learn more about how Netflix works, read my guide dedicated to the subject.
TV Guide: this is an excellent application that can replace the classic printed TV guide. Do you always want to know which programs, movies or TV series will air in the evening? Then this is the application for you. Obviously the application is free then download it without hesitation from the Windows Store.
Productivity Applications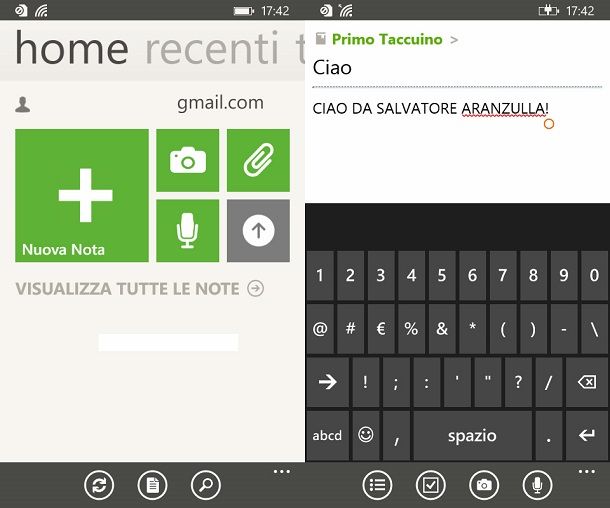 We use the smartphone every day with more and more different purposes. The mobile device has also become our indispensable companion thanks to the presence of numerous applications for productivity. The recommended applications below are a concrete example.
One Drive: this is the famous Microsoft cloud storage service through which you can upload documents, photos and folders online to then be able to access them from other devices. The application is usually already present as it is pre-installed on Windows Phone devices. If you uninstalled it by mistake, you can restore it by downloading it for free from the Windows Store.
Amazon Seach Unofficial: The official Amazon application is no longer present in the Windows Store. The solution to search the well-known e-commerce site is the unofficial application and free Amazon Seach Unofficial.
Evernote: we are in the era of smartphones and notes are no longer taken on paper. To carry out this purpose there is in fact the Evernote application that can be downloaded for free from the Windows Store, it sets up as a great productivity application.
Dropbox: is one of the most popular cloud services that allows you to upload and share photos, documents, videos and much more online to share them with other users within the application. The application is free and you can then download it via the Windows Store.
Adobe Acrobat Reader: developed by Adobe System Inc., this productivity application is indispensable for reading PDF files from your Windows Phone mobile device. IS free so I suggest you download it from the Windows Store to be able to use it.